Election Radar: Australia's patchwork regulation leaves voters using WeChat with poor transparency of political ads and campaign activities
Reset Australia is investigating social media activity during the Federal election, with a focus on platform transparency, misinformation, disinformation and hate speech. To support those responding, our Election Radar shared emergent case studies to track how this material is travelling across social media platforms to reach Australians preparing to vote.
Reset Australia conducts research and analysis of the distortion of public narratives by social media, we do not endorse any of the views contained in these reports, nor do we publish all Election Radar briefings.
---
Australia's patchwork regulation leaves voters using WeChat with poor transparency of political ads and campaign activities
WeChat is an extremely important social platform for a diversity of Australian, Chinese-speaking voters, however Australia's patchwork approach to tech policy has meant it has received little attention from regulators to improve transparency and combat misinformation on the platform. WeChat, which reportedly has roughly 3 million users in Australia, is a complex application that includes a very broad range of functionality. WeChat has public and private messaging groups (similar to Facebook Messenger, Telegram or WhatsApp), but also publisher channels that function more like blogs or news sites within the application. According to the Lowy Institute's latest research, WeChat is 'a dominant source of both English and Chinese-language news for Chinese-Australians'. The opaque design of WeChat, alongside the lack of transparency-enforcing regulation, makes it a very challenging platform to research or run broader analysis on. In this briefing we are extending recent reporting by providing further case studies on the campaign materials currently circulating.
WeChat's terms and conditions include a clear policy prohibiting any political advertising on the platform, similar to Twitter's policy. WeChat's policy also explicitly states that the platform actively adheres to Australian regulation. However, in clear breach of their own political advertising policy we have observed frequent political ads for a number of candidates, including Anthony Albanese, Independent Kylea Tink, Josh Frydenberg and fellow Liberal Paul Fletcher. Throughout the election campaign there have been a number of reports of misinformation circulating in private WeChat groups, including highly divisive homophobic, transphobic and xenophobic content, as well as non-compliant political advertising accompanying glowing editorials of candidates, reported on thoroughly by The Guardian this week.
A screenshot of an ad for John Frydenberg that has been reported on in the Guardian, now bearing authorisation by the campaign.
We have observed a pattern of activity, which appears to be more extensive than previously reported. There is a serious lack of transparency around political advertising on the platform, making it very difficult for voters on this important social network to easily understand what content is paid for and what is not. Despite the importance of WeChat and the documented reports of problematic activity, the AEC has reportedly stated that it does not proactively monitor the platform. Given the large number of users, and its particular importance to a significant segment of the population, this appears to be a major gap in efforts to protect Australia's electoral integrity.
In this briefing we provide a number of additional examples of political advertising on WeChat, in apparent violation of the platform's terms, as well as misinformation trends we have observed.
On 9 May, The Guardian highlighted WeChat channel Australian Financial News (AFN) publishing of an unauthorised ad in Mandarin the month prior, claiming that the ALP would introduce a list of new taxes (which are not current ALP policy) including a 'coal emission tax', 'mining tax', 'traffic tax', 'high-pension tax', 'high-income tax', 'property tax', 'retirement tax', 'family business tax' and 'inheritance tax'. Following this report, the ad has now been republished and now bears the proper authorisation by Frydenberg (as shown above).
This was not the first time the ad had appeared on WeChat however. A video posted on the channel '土澳見聞' (Local Australian Information) in February used the same campaign material, with Frydenberg's authorisation flashing at the beginning of the video for a fraction of a second. With no advertising transparency on the platform, it is unclear for users whether this post was paid for or its connection to the candidate's campaign.
The screenshot of the video posted by 土澳見聞 (Local Australian Information) in February.
This is just one example in a wider pattern of activity on WeChat, which is different from what we see on Facebook or Twitter for example. Because of this lack of authorisations or platform transparency, WeChat appears to be somewhat of a free space for campaign teams to push material with little accountability. It is extremely difficult for users of the platform to distinguish between paid or campaign posting and supporters' voluntary acts.
In another example, United Australia Party (UAP) supporters have shared campaign videos, on behalf of Reid candidate Jamal Daoud and the party in general, bearing no authorisation. The accounts' connection to the party is unclear.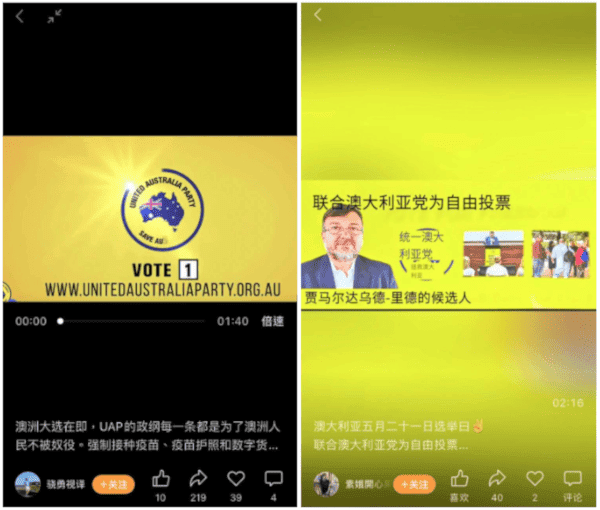 Screenshots of videos posted by two different accounts sharing UAP promotional material.
Independent candidates Nicolette Boele and Kylea Tink have appeared in a promotional video posted by an account titled "How Australian voters vote? Policy to China/Chinese is the most important", also without authorisation. It is unclear whether the posting was organised by their campaigns.
Independent candidate Kylea Tink's 'how to vote' card advertisements have been promoted on at least four AFN channel posts in the last week and also don't bear authorisation. For comparison, Tink's 'how to vote' images on Facebook, in English, appear to be properly authorised.
A Kylea Tink advertisement on the AFN WeChat channel.
Last Friday it was reported that the AEC is investigating fake campaign signs appearing in several electorates, falsely depicting independent candidates as running for the Greens. The AEC has affirmed that any material that 'is likely to mislead or deceive an elector in relation to the casting of a vote' is banned. Across this election, the themes of 'fake independents' and 'vote one thing get another' have been widespread, often walking a fine line towards misrepresenting candidates' affiliations by using visual cues that may be confusing to voters. This pattern has also appeared on WeChat. The AFN channel has featured Liberal authorised ads in the last seven days, in the teal colour similar to several independent candidates' branding, with a picture of Anthony Albanese and text in Mandarin that translates to, 'Voting for independent candidates risks your money. Hung parliament, weak, deadlocked economy'.
A Liberal Party WeChat advertisement, linking independent candidates with ALP leader Anthony Albanese.
Article 11 of WeChat's terms and conditions prohibits paid 'promotional political content', including ads from 'a candidate for an election; a political party; or any elected or appointed government official…'. The terms also affirms WeChat's commitment to complying with transparency regulation in the jurisdictions in which it operates. However, it appears that there has been little attention from Australia's electoral regulators, resulting in candidates' campaigns appearing to be acting with less regard for the rules as compared to other platforms that are subject to significant AEC attention. This has created an incredibly opaque situation for voters, which is far behind the already limited transparency on Facebook. As the social media landscape evolves and the number of important platforms grows, we need a comprehensive system of social media regulation that holds platforms and candidates accountable, and ensures Australian voters can discuss and engage with campaigns no matter their platform of choice.